Where have we been and where are we going?
As we are still fairly near the beginning of a new year, it seems a perfect time to sit back and reflect on all that was achieved at Windlesham School in 2018 and lay out our plans for the year ahead. Both aspects of that equation are equally satisfying; looking back fills us with pride and looking forward with excitement.
A summary of 2018
Last year was extremely productive. There were a significant number of changes made to curriculum related areas. These included developing an English scheme to ensure greater breadth and depth in the English curriculum. We introduced a series of presentations for parents about the expectations, strategies and resources which can be used to encourage and progress children's reading. We held a book fair and welcomed authors to spend time with the children.
In Maths, we introduced two new initiatives, aimed at developing children's confidence with arithmetic. In the lower school this was achieved through the introduction of Maths Passports and in the Upper School it was the Early Bird Maths programme. Both have made a significant impact on children's automation, speed and familiarity with arithmetic problems. Mathematical presentations were given to assist parents in understanding the strategies used by teachers to teach the four operations (addition, subtraction, multiplication and division) and how parents can support their children to better understand the tasks they are required to complete.
Presentations were also given to inform parents about the teaching of verbal and non-verbal reasoning, secondary school transfers, transition from Nursery to Reception, anti-bullying and the variety of residential trips planned for our pupils.
Behind the scenes, in the Spring and Summer terms a great deal of thought went into reviewing our homework scheme. A committee of teachers invested many hours to research and adapt versions of schemes used elsewhere and combine these with their own ideas. The result was launched in a presentation to parents last summer. This has since undergone further minor tweaks but is now in its final format and we are very proud of the result. Many teachers and parents have commented favourably on the standard of work now produced, the level of engagement and the regularity with which children go beyond what has was required because they are so interested.
Teaching Assistants have begun a programme of further training to maximise their impact in the classroom. Last year, Mrs Ball and Ms Thompsett qualified as Higher Learning Teaching Assistants. Mrs Glasgow-Simmonds already holds this qualification. The programme will continue this year for other TA's.
In the Early Years, there were several developments. Last year was the first year that Reception was merged into one classroom. Reception became frequent users of their outside space to include the outdoors as part of their investigations, constructions and collaborative play. Reception also enjoyed the privilege of having year 6 buddies. Nursery, Reception and Year 1 launched their new classroom carousel initiative, giving pupils further opportunities to meet older/younger children and other teachers while engaging in exciting interactive activities.
The Early Years also became the main focus for our WONDER project (Windlesham Outside for Nurture, Development, Education and Resilience), an exciting partnership initiative with Friends of Windlesham. The project has a primary objective of developing the outdoor spaces for the Early years to enhance their play and learning experiences. This is scheduled to continue through this year.
To confirm the excellent work carried out in all areas, in April Windlesham School also underwent (and passed) a rigorous inspection by the Independent Schools Inspectorate. This came immediately after we were accepted for membership into the Independent Schools Association.


Last year was also a year to celebrate Windlesham's 70th Anniversary. As you will remember, this culminated in a spectacular performance at The Theatre Royal with every child in the school involved. It was an outstanding opportunity to bring the whole school together in celebration. Performing arts were also on show at other times of the year with the talented year 6's when they performed Bugsy Malone, the Year 5's with their Victorian play and our Year 1, 2, 3 and 4 with their assemblies. Artistic talent was also very much on display in our fantastic Art exhibition and the repeated informal concerts. Development of the music programme also included the appointment of three new peripatetic teachers. In Art we managed to display work at the Royal College of Art.
All this talent did not pass un-noticed and our year 6 pupils were offered a very high number of places in secondary schools of their first choice, including seven to Brighton College, seven to Hurstpierpoint, six to LOGs, five to Lancing and three to Shoreham (and many of those with scholarships).
Last year, we focused a great deal of energy on the development of our extra-curricular programme. Many new clubs were introduced and several others modified, increasing our total number of clubs from 20 to over 40. A particular focus included the introduction of languages to match the diversity of our demographic. We now offer Spanish, German, Italian and Greek! Many of the feature clubs are unique to Windlesham: scuba, biathlon, Glee and sailing.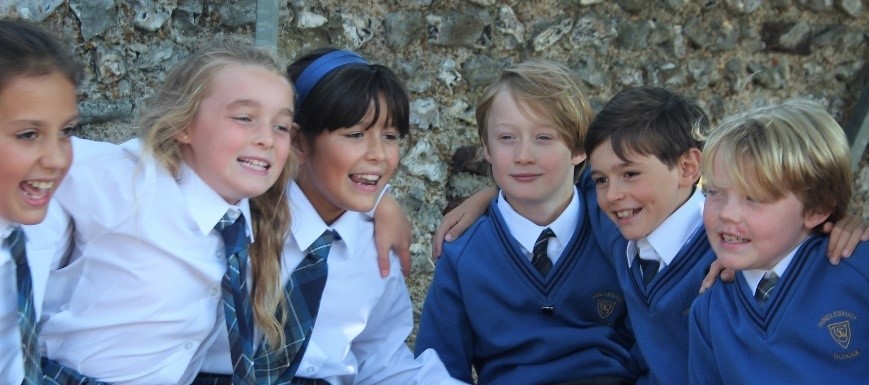 There were changes to the school branding, the most prominent of which included the introduction of a smart new uniform. There were changes to the pastoral processes, and significantly to the daily timetable, which has resulted in a greater encouragement of cross-age interaction.
Clearly this is not an exhaustive list but hopefully an indication of the hard work which our dedicated staff have put in to the continued goal of improving our school.
What we have planned for 2019
Having recapped on the year gone by, it seems appropriate to now look forward at what we aim to achieve in the next calendar year.
A significant amount of our efforts in 2019 will be directed to working with the contractors to achieve the promised building extension, on time and on budget. Once completed, the new classrooms will have a significant impact on how we deploy our present classes. The new multipurpose hall will also result in greater opportunities available for performance.
With the introduction of a new kitchen in the planning, we are already in the process of working with consultants to recruit catering contractors who can deliver the food service we will need in 2020; healthy, diverse food, with options for all dietary requirements, cooked with locally sourced ingredients. This is a process which will involve student and parent representatives.
Within the academic sphere, there are several areas we hope to focus our energies on; these include greater development of assessment tools and a new PSHCE scheme to ensure that contemporary issues are explored, and that curriculum coverage is broad and engaging. There will be significant focus on online safety with practical suggestions for monitoring and filtering your children's social media and general device access. The School will also endeavour to establish partnerships with nearby schools in an endeavour to continue to develop best practice.
Mindfulness will be introduced as a programme to help children develop or maintain emotional and mental well-being. Our focus on mental well-being also turns to enhancing healthy learning attitudes. There has been significant research into learning mindsets at Windlesham with the intention to adopt a carefully considered strategy to encourage pupils to become 'life-long learners'; always engaging in their studies to the best of their abilities, remaining motivated and collaborating with peers. We will work with parents to try and share our understanding and encourage a unified approach.
The push to encourage ex-pupils and families to remain in contact and involved with Windlesham School will also increase. You may already be aware of the ongoing notifications on the WiSA (Windlesham School Alumni) Facebook page WISA. In addition, this year we will schedule our first WiSA social event.
With the extension of the House system to the Lower School, it is our aim to also develop the number and type of events we offer as a way to unite the Upper and Lower school.
Additional opportunities outside the sphere of the classroom will include an extended residential programme, which has already begun a transformation. In 2019/20 this will be accelerated with our first 'overseas' trip to France for Year 6 and shorter trips and experiences for Years 5, 4 and 3! Our extra-curricular programme will continue to develop as we find more opportunities for children and their areas of interest.
Clearly, as with actions completed, this is intended as a summary and not a complete list of what we plan for our wonderful school. However, even based on our summary of planned developments, I hope you will agree that 2019 promises to be a very busy and productive year.
I look forward to sharing further details about each of these developments as they are implemented and wish you all a very happy January.